Naples SW FL Casual Dining Restaurant Cafes & Bistros
Visit Naples Florida for Casual Dining Restaurants – from crab shacks to pizza pies, fried seafood to oyster bars, sensational sub and sandwich shops to tacos, burritos and Tex-Mex specialties – this is a foodie's heaven.
Naples is home to unique and one-of-a-kind casual restaurants that you will remember for the rest of your life. We enjoy sharing our favorite Naples casual dining restaurants and welcome your suggestions, reviews and comments. To share your comments or to feature your Naples Cafe, Bistro or Casual Dining Restaurant contact us. Thank you for visiting – Naples SW FL Casual Restaurants.


Sand Bar, 826 E. Elkcam Circle (Behind Walker's Marine), Marco Island, FL 34145 | 239-642-3625
The Sand Bar is open 365 days a year from 7am – 2am. Full breakfast menu from 7am-11am, from 11am on we feature appetizers, soups, salads, sandwiches, awesome entrees and seafood. We are famous for our Fingers and Toes (aka fish and chips) as well as our Wings. Celebrating over 30 years on Marco! More than 40 Big Screen TV's with all your favorite sports.
Visit Website
---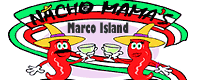 Nacho Mama's , 599 S. Collier Blvd., Marco Island, FL 34145 | 239-389-2222
Nacho Mama's - a favorite place for a great meal and a fun time. Nacho Mama's is a family owned restaurant serving Tex-Mex and American fare. Nacho Mama's is a recipient of the prestigious Platinum Plate Award for best Mexican Cuisine. Specialities include- Sizzling Fajitas, Nachos Grande, Baja Fish tacos, fresh chicken sandwiches, fresh salads, and one of the best burgers on the island. Full liquor bar and ice cold Cerveza. 5 large screen TV's, Happy Hour Specials.
Visit Nacho Mama's Website
---

Marco Island Princess / Sunshine Tours, Rose Marina, 951 Bald Eagle Dr., Marco Island FL 34145 | 239-642-5415
The Marco Island Princess is a 90' luxury yacht offering daily Sightseeing, Lunch and Sunset dinner Cruises. enjoy delicious meals, two cash bars and a great view. Also available for Weddings and Private Charters. Marco Island's most unique dining experience!
Visit Website
---


Doreen's Cup of Joe, 267 North Collier Blvd., Marco Island FL 34145 | 239-394-2600
We strive to provide the best possible breakfast experience. We only use Eggland's Best Cage Free Brown Eggs, Sausage Patties are all-natural, no preservatives, our syrup is Pure Maple Vermont Syrup, Milk products are from a local farm in Myakka City, Florida, our Kana Coffee is from a local roaster in Miami, and our Orange Juice is made from Fresh Squeezed Florida Oranges.
Visit Website
---


Joey's Pizza and Pasta, 257 North Collier Blvd., Marco Island FL 34145 | 239-389-2433
Family owned and operated since 1997. Joey's offers quality Italian Cuisine and great service. All of our dishes, pizzas, and deserts are made from the finest and freshest ingredients and, best of all, homemade family recipes. Indoor / outdoor seating, full bar, on-island delivery, catering, open 7 days.
Visit Joey's Pizza Marco Island Website
---
The Dock At Crayton Cove
845 12th Ave S
Naples, FL 34102
Ph: 239-263-9940
Ocean side Marina atmosphere and fresh Florida seafood. Shrimp nachos, Cuban sandwiches, Scallop salad, Fried Fish and Chips, Oysters and Peel and eat shrimp.
Chick-fil-A
5825 Airport Pulling Rd N
Naples, FL 34109
Ph: 239-594-9777
Chicken is king. Great Fries, Wonderful Tots. $
Texas Tony's Rib House
4519 Tamiami Trl E
Naples, FL 34112
Ph: 239-732-8392
Hand Cut Fresh Fries and Slow Smoked Ribs, Beef Brisket. Lunch, Dinner. $$
Culver's
5775 Airport Pulling Rd N
Naples, FL 34109
Creamie Cones, Fish Fillets, Butter Burgers and more. Take your number and they bring your order to your table. $
Skillets
847 Vanderbilt Beach Rd
Naples, FL 34108
Ph: 239-330-2515
Fresh squeezed OJ, Great Waffles, Pancakes, Breakfasts. $$
Five Guys Burgers and Fries
1410 Pine Ridge Rd
Naples, FL 34109
Ph: 239-261-5603
3148 E Tamiami Trl
Naples, FL 34112
Ph: 239-732-0102
13020 Livingston Rd
Naples, FL 34105
Ph: 239-261-5624
This keep it simple burger chain serves award-winning burgers made to order with fresh beef and all the fixing. Free Peanuts, great homestyle fries. $
---
Attractions | Inns | Resorts